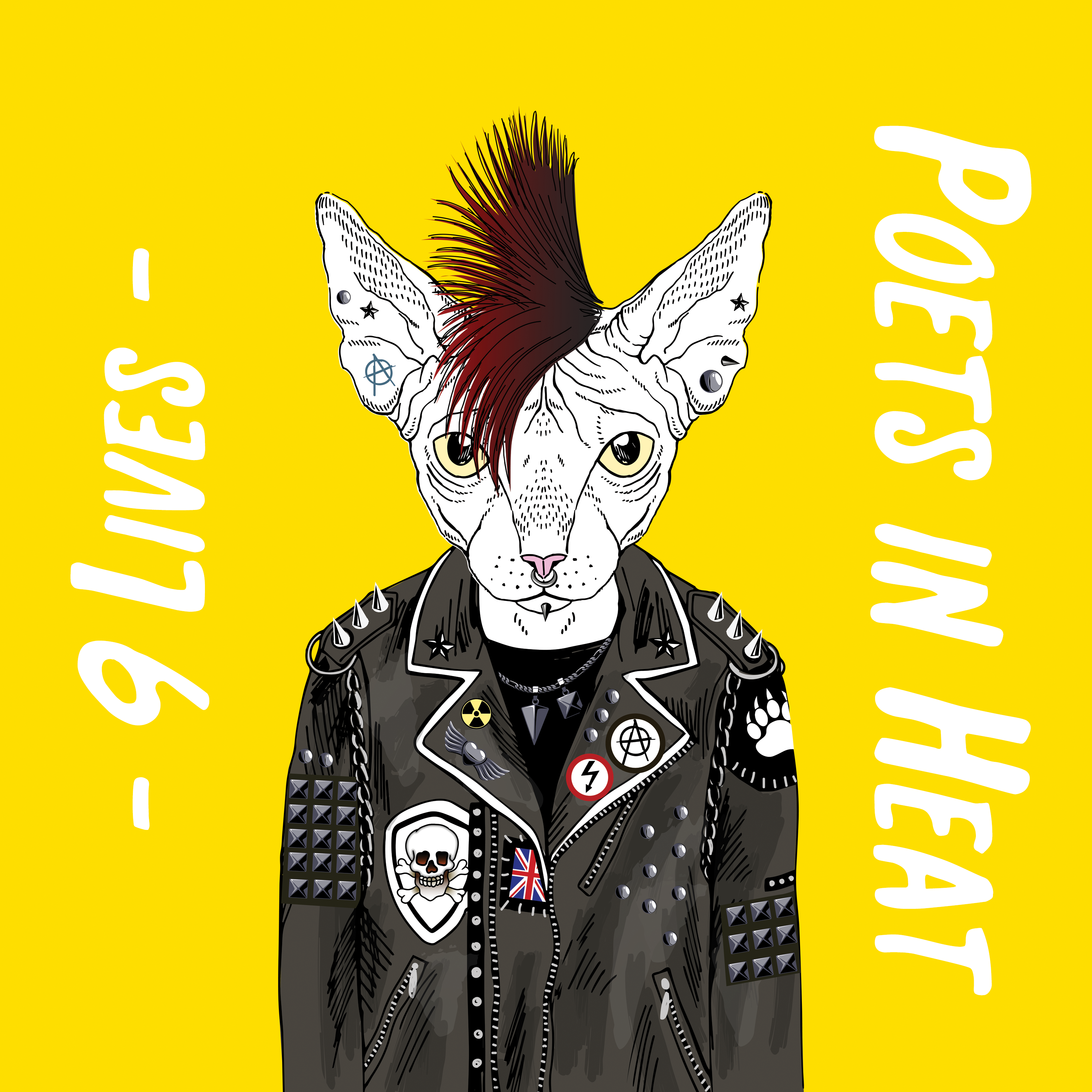 9 Lives, 2021, Reissued and reimagined coming this summer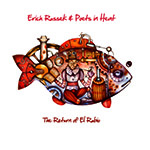 The Return of El Rubio, Part One, 2019, Clifton, VA

Spotify, Apple Music/iTunes, Amazon Music
Erich Russek, vocal, guitar, keys, clarinet, percussion
Terra RussekRobbins, drums
Teeka Ballas, vocals
Charlie Bare, keys
Charles McCullough, guitar
Don Sigety, drums
Alex Villavincencio, flute
Dan Walters, bass, keys
Released in 2019, The Return of El Rubio is a delightful mix of instruments, styles, and themes that come together to create an EP that will have something for everyone.

Living in Our Cars, Pt. 1 starts the release off with a mellow and relaxing Latin American sounding tune. Horns, female backing vocals, and radio-like speaking samples combined with hand drums help round out the sound. Next up comes Hit The Road Jack. This is a song that sounds like it belongs in a Western saloon. The folksy sing-along duet is backed by some smooth bass and piano and has some more Latin American influence. Closing Time is a psychedelic song with some lovely backing vocals that fans of Pink Floyd are sure to enjoy as Erich Russek channels his inner Roger Waters. The second to last track Living in Our Cars, Pt. 2 changes things up and presents a very smooth sounding song that conjures images of a fancy south western ball. Rounding out the track list is Oshun, another psychedelic rock influenced tune full of synth and reverb.

The Return of El Rubio is a smooth, easy listen that manages to blend Americana with psychedelic rock and Latin American influence. It's a unique EP with a lot to offer.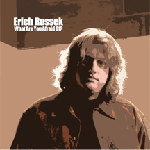 What Are You Afraid Of? 2002, Recorded in Springfield,

Spotify, Apple Music, Amazon Music

Erich Russek, guitar, vocal, keys;
Bill Kirchen, guitar
Johnny Castle, bass
Dan Walters, bass, keys
Jon Carroll, keys, vocal
Jack O'Dell, dums
Nicki Gonzales, vocals
Jenna Sokolowski, vocals
Fans of classic rock, alternative, world and folk will find something to enjoy from Erich Russek's versatile new CD, What Are You Afraid Of? The CD features an amazing team of musicians: Grammy-nominated and Wammie (Washington Area Music Awards) Hall of Fame guitar legend, Bill Kirchen; multi-Grammy winner and Wammie Hall of Famer, Jon Carroll; Wammie winners Nicki Gonzalez, Johnny Castle, and Jack O'Dell; DC music theater artist Jenna Sokolowski and Songwriters Showcases of America (SSA) multi-award winner, multi-instrumentalist, and acclaimed sideman Dan Walters (LFO, Art Garfunkel).

There are twelve tracks on this new album: I Was Up, Now I'm Down; Nice As I Wanna Be; What Are You Afraid Of?; Can You Feel It? (Part 1) LA; What's This Blues Thing; I Found You; Used To The Rain; I Want This; Can You Feel It? (Part 2) The Tour; Didn't Want (Hey Ha); The Flame; and I Shall Be Released.

Of the twelve songs on the CD, all were penned by Erich Russek except 'I Shall Be Released,' which is a classic written by Bob Dylan. Nicki Gonzalez and Jenna Sokolowski each sang a duet with Erich-'Used to the Rain' and 'Nice As I Wanna Be,' respectively. Dieselbilly guitar legend Bill Kirchen played his amazing guitar throughout. Check out his signature solo in 'I Want This.' Jon Carroll dazzles the tracks with the Hammond organ and his vocals. Listen to the chorus on 'What Are You Afraid Of?' or the jam at the end of 'I Found You.' By the way, 'I Found You' was written for Erich's wife and was performed by Poets In Heat at their wedding. Johnny Castle and Jack O'Dell created a solid foundation throughout. Dan Walters added some flare to the tracks. That's him on the sitar sounds in 'Can You Feel It? (Part 2)'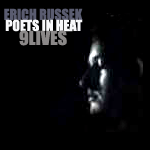 Nine Lives, 2000, Recorded in Falls Church

Erich Russek – vocals, guitar
Dave Kline – violin
Pierre President – guitar
Jeff Livesay – accordion, keys
Bill Grier – drum
Oliver Walker – bass
Andi Keller – vocals
Candy Blackwell – vocals
Beth M – vocals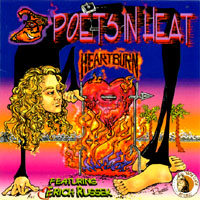 Heartburn, 1998, Recorded in Orlando
Spotify, Apple Music/iTunes, Amazon Music
Erich Russek – vocals, guitar
Joe King – guitar
Dan Walters – bass, vocals
Rick Bailey – guitar, vocals, engineer
Ronnie Byrd Foster drums
Laura Chandler – vocals
"Life is just a metaphor of everything we've done before," sings Erich Russek in "He Thought He Saw," one of many thought provoking songs by the eclectic singer-songwriter that marries cleverly unpredictable lyrics with foot tapping Americana, and leaves listeners with a knowing grin and no doubt that Russek is a thinking man's roots rocker. Take his love ballad, "Come Back To Me," which swings merrily along while quoting six philosophers, one poet, and Albert Einstein. Then there's "Transients," where Russek impishly riffs on Simon and Garfunkle with the words, "I am a rock/I like being a rock/All in all, it's
easy work."

What's not easy work is sticking a label on this versatile musician, who during his childhood lived alternately in Tampa's Cuban quarter, where he was exposed to Cuban music, and the suburbs of Maryland, where he received classical training. Moving between these two very different worlds left Russek with a unique perspective and the ability to adapt, mix, and match musical styles and instruments. He is skilled in eight different wood and string instruments, and his songs draw on a diverse range of influences including punk, folk, swing, mariachi, Cajun, and Klezmer.

PIH began in Los Angeles, when Erich served as front man for the band, which was voted "Best Funk Band in California." Following the release of the CD "What Are You Afraid Of?" Russek teamed up with keyboardist Martha Renee to record the album Duck Inherits Spoon which received airplay on AAA stations around the US. Following a well-received tour, Russek once again shifted gears, combining his early exposure to Cuban musical sensibilities with more contemporary influences in Heartburn, a roots based album recorded in Florida that began the Russek tradition of surprising his audience; in this case with deceptively upbeat tunes that reward keen listeners with delightfully incongruous lyrics that skillfully dance between politics and poetry.

Russek's next venture continued to break established boundaries when he reformed Poets in Heat as a nine-piece, and recorded the material for the self-released Nine Lives CD, which featured scorching violin and guitar battles with smooth backing harmonies. This melding of styles resulted in songs combining the energy of rock with the heartfelt emotion of folk, and satisfied the loyal followers of this multifaceted performer that Erich Russek is truly a master of surprises.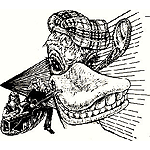 Duck Inherits Spoon, Los Angeles, 1994
Livish, 1993, unreleased
Sisyphus Escapades, 1992, unreleased
Secrets of California (Compilation), Los Angeles, 1992
Erich Russek
Teeka Ballas
Frankie Adams
Dallan Baumgarten